Industrial Hygiene Services
Mystic Air's highly trained staff under the direction of 3 Certified Industrial Hygienists and Certified Safety Professionals can provide the following services:



CIH Services: Site Health and Safety Plans (HASPs) preparation and or review.
OSHA Compliance Consultation: Walk through safety inspection and audits, written safety plan development, training programs, OSHA citation consultation, and risk assessments services.
Industrial Hygiene Surveys:

Air sampling: Sampling for welding fumes, solvents, dust, gas, vapor, etc.
Ventilation: Lab hood and local exhaust system testing and evaluations.
Noise: Noise dosimetry and sound level surveys.
Non-ionizing radiation: light, rf, and microwaves surveys.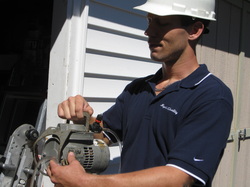 ---